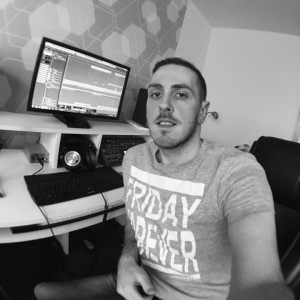 Not placed in the cradle…
…but early given along his way was the music in the life of Bernie Gums aka "illitheas".
Having been sent for keyboard lessons by his parents at the tender age of 6 he learned for 5 years all about music and notes.
In the year of 1999 the "ordinary" music was hung on a nail, and from then on, it was all about the sounds which could be brought out of a PC.
Starting with "Magic Music Maker", over "Protraxx", "Fruity Loops" and "Reason 2.0" up to "Cubase" Bernie continued producing until the year of 2006, when the track "Infinity" has been created – among other tracks – which finally succeed in a release on vinyl at a german trance-label based in Frankfurt in the year of 2009.
The track "Waiting" ensued directly, and this track Bernie applied to several major labels.
After getting a selection of several labels, he decided joining the german trance label "Shah Records", founded by Roger Shah and Pedro Del Mar.
This should be the "starting signal" for a successful music-career.
"Waiting" had been followed by the tracks "Perfect Day" and "Another Day", just to name two of the "big ones" , which had been supported by well-known DJs like Armin van Buuren, Aly & Fila and Manuel le Saux
In the following times Bernie got numerous remix requests, so the producing of own tracks had stopped for a while.
At that time several remixes for Shah-Records (Ronny K. – Onyx / illitheas Remix) Trance All Star Records (Sandy Eagle – Haliaeetus / illitheas Remix), Blue Soho Records (Ronny K., Advanced – Atlantis / illitheas Remix) – and many more – arised.
The tracks and remixes of illitheas have also been released on several "Mellomania" compilations, mixed by Pedro del Mar.
The productions of illitheas are influenced by trance producers like Ayla, Alex Morph, Tiesto, Armin van Buuren, Above & Beyond, Andy Moor, Jonas Steur, Sunlounger, but also by musicians such as Yuki Kajiura, Hans Zimmer and Klaus Badelt.
Today Bernie aka illitheas is more focused on doing his own productions and less on making remixes for others.
In the year of 2012 tracks like "Azen" and "Little Heart" have been released, followed by the tracks "Nanven" and "20 °", and we will be looking forward to getting much more of his melodic sounds.
Thx Christiane(C-79) for this description –> http://www.blue.oss-records.com/artists/deejayne-c-79